A lot of job seekers have been asking to know how to dress for an interview, others are asking to know if there is a dress standard or code.
When you are in Rome, behave like the Romans and that is how we will operate. Going for an interview in a corporate company requires you in a corporate dressing.

Dress in corporate attire like every other person coming for the interview.
Do not wear sunglasses or shades except, they are prescription glasses, some human resource personnel may be interested in why you are on glasses, so you should really have a concrete answer.
Beware of anything flashy in your dressing, so it will not draw attention away from you and cause unwanted distractions.
Use outfit of good quality that makes you feel good and comfortable.
If the interview goes beyond a day, try to wear a different outfit.
Do not wear anything that connects you to a religion sect, political party, association, school or club. It is better to appear as a neutral.
Use breath mints and deodorants, do not spray perfume but generally maintain high body hygiene.
Use transparent folder or case for your credentials. If you carry a briefcase, make sure it is of good quality and small in size.
Women should not wear low cut dresses and should not appear sexy in any way.
Job interview clothes
Dressing properly and smartly in good job interview clothes is just one great way of striking a permanent and lasting first impression.
There is more to just dressing for an interview than just wearing any kind of suit and color.
While it is true that it may be difficult to choose the best interview clothe, it is important you seek to balance what you are wearing in between one that will make you look very smart and one you will appear confident in.
Even if you are asked to appear in casual wear, try to still appear in smarter clothes, you extra effort will still set you apart.
You may also want to consider the activities you might be engaged in when you get there. E.g. If you are seeking employment in a marketing or manufacturing company, they may want to take you on a factory tour.
JOB INTERVIEW CLOTHES/OUTFIT SHOULD BE CONSERVATIVE
Any attire you appear on for the interview should be conservative in color. Wearing brightly colored clothes or dress may not be in your best interest. Avoid colors like red, orange, sky blue …
Women should consider skirt suit, trouser suit, corporate skirt and blouse, comfortable shoes, moderate perfumes and make-up.
It is important that you try out your interview clothes before the interview to make sure they are comfortable.
Your clothes should be well ironed and starched if possible and you should also consider how rough they may appear after spending some time in a vehicle to your interview venue.
JOB INTERVIEW DRESS FOR SUCCESS
Do not give the interviewer the chance to rule you out or disqualify you at first sight just because you did appear ready and smart.
SUITS
Try to stick with traditional conservative colors like black, gray or navy blue, oxford shirt or blouse. Make sure the shirt is well ironed.
TIES
Ties should be medium width and tied to hang at the head of your belt buckle.
SHOES
They should be polished and free of any scuff mark. High heels should be between 1- 2 inches tall, your socks should match your shoes.
JEWELRY / PERFUME
They must moderately applied and mild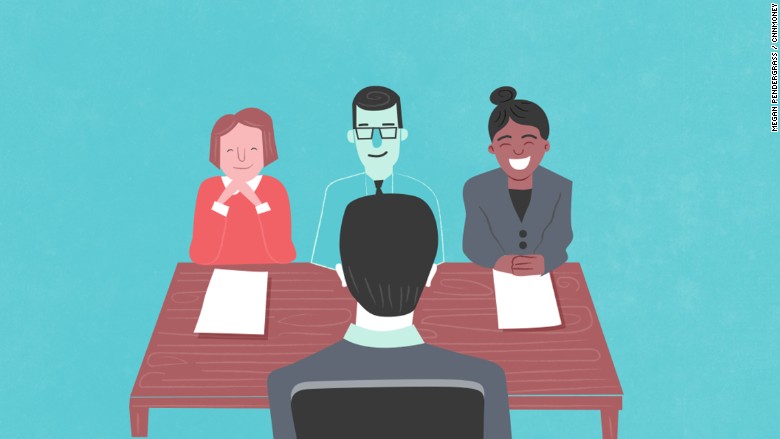 ARRIVING AT THE INTERVIEW VENUE FOR YOUR JOB INVITE
The day for the interview has finally arrived. Your big day and you are all sweaty and feeling extremely nervous.
GET A NEW JOB: Top 20 Unconventional Ways to get your dream job/employment in Nigeria
It is normal and so do not panic, it shows you are human. You must have been practicing in front of friends and the mirror to build your confidence, so you should be highly prepared.
Try to arrive before the interview time, others are mostly late with respect to the so calls African time
Go with good reading materials to keep yourself occupied before it gets to your turn
Smile and salute others you meet there with utmost respect, you may meet them again or even work with some of them if you are employed
Take the next available seat and feel relaxed.
Now the receptionist say "Precious IRIAEVHO will see you now!"
So here you go, breathe and be yourself
Consider READING these articles